Best Rated Toilets
Find the best toilet for your home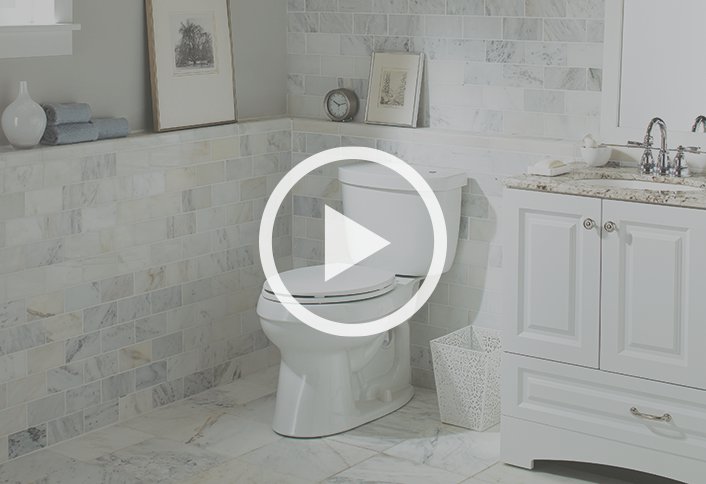 When finding a new toilet for your home, you should first consider the available size in your bathroom then determine your style preferences and budget. This guide will walk you through the different variety of options available so that you can easily find the best toilet for your home.
BOWL SHAPE, TOILET HEIGHT AND STYLE

Before purchasing a new toilet, measure the amount of bathroom space you have available and consider your bowl shape preferences.
The most important of these measurements is the distance between the floor drain and the wall, called the rough-in. The standard distance is 12 inches, but 10 or 14 inches are occasionally found in older homes. Determine the rough-in in your bathroom by measuring from the wall behind the toilet to the middle of the bolts on the base, and compare to your desired toilet's dimensions.
Bowl Shape
Toilet Height

For standard-sized toilets, the rim is 14 to 15 inches off the ground. Toilets with a rim 16 1/2 inches off the ground are ADA-approved.
Style
Tank and bowl are separate

• Most common type
• Generally more economical
• Easy to find replacement parts

Tank and bowl fused together into a seamless unit

• May require larger upfront investment
• Save space
• No hard-to-clean crevices
• Creates a sleek, stylish look

Mounts to wall and eliminates need for toilet foot or base

• May cost more to purchase and install
• Ideal for transfers from wheelchair or
walker
• Requires thicker wall for mounting
• Drain for toilet must be on wall rather
than floor
• Easy to clean underneath
WATER SAVING TOILETS

Toilets account for nearly 30 percent of an average home's indoor water use. Regulations now limit toilets to no more than 1.6 gallons of water per flush.


Save up to $90 per year on your water and sewage bill with WaterSense® toilets. New flushing technology enables water conservation without sacrificing flush power, so it is recommended that you replace any toilets installed before 1994.
Our Local Utility Rebate Finder will help you find out if your toilet purchase qualifies for a rebate from your local water district.
The Home Depot has developed its own Eco Options program to encourage Earth-friendly living and is a proud partner of the Environmental Protection Agency's WaterSense® program which includes low-flow toilets that use no more than 1.28 gallons per flush.
FLUSH POWER

The Home Depot's flush performance rating system assigns each toilet a numerical score based on the toilet's ability to remove waste and resist clogging. You will see these scores displayed on product packaging and signs in the toilet aisle of your local store.
Higher ratings mean better waste removal and clog resistance.
TOILET INSTALLATION

The Home Depot offers full-service professional toilet installation, and also sells complete toilet kits if you choose to self-install.
Toilet installation kits include everything you need in one box – tank, bowl, toilet seat and wax ring. (Supply lines are sold separately). These "all-in-one" kits ensure that you have the correct toilet parts the first time, saving you from return visits to the store to buy or exchange parts.
For details on how to install or replace a toilet, see our How to Install a Toilet project guide.
Ref: https://www.homedepot.com/c/the_best_toilets_for_bath_renovation_HT_BG_BA